It is a valuable opportunity to attend a gig in which the players are all in their early twenties because the number of young people is falling dramatically in Japan.

On the night that made you feel that summer had come, Shoko Numao (vocals), Chiaki Kanamori (piano) and Sae Otake (double bass) performed a candle night show at a cozy cafe in Kobe.
Personnel
:
- Shoko Numao (vocals)
-
Chiaki Kanamori
(piano)
-
Sae Otake
(double bass)
at
Green Dolphin
in Kobe City, Hyogo Prefecture, Japan on Friday, May 25th, 2018
Set list for the show
* 1st Stage
1. Night And Day
2. Moon River
3. Girl From Ipanema
4. 月のワルツ Tsuki no Waltz (Waltz of the Moon)
5. Painter / Shoko Numao
6. Destination Moon
* 2nd Stage
1. Country - instrumental
2. 悲しくてやりきれない Kanashikute Yarikirenai (Too Sad To Stand It)
3. Tea For two
4. One Note Samba
5. 船旅 Funabatbi (Boat Travel) / Shoko Numao
6. Bye Bye Blackbird
* Encore
O pato
In the fantastic room by the dim light of the candles, they played jazz standards, bossa nova and Numao's originals.

Numao and Kanamori visited hospitals in Kobe in the previous two days to comfort children and the elderly. The duo was greatly touched by the audience members who welcomed them with sweet words, sang with them and were moved to tears by their performance.




One of Numao's original songs the trio played, "Painter", was created when she was at a neat cafe. Some nice paintings were on the walls there.

She wrote another one, "船旅 Funabatbi (Boat Travel)", when she saw a beautiful sunset on a boat trip.

This was my first time to listen to Numao sing. Her voice was so attractive that I wanted to hear more songs sung by her.

It was also my very first time to see Kanamori play with a singer as well as Otake perform. They were awesome accompanists, who let nothing go to waste for the trio rendition.

[left to right] Sae Otake (bs), Shoko Numao (vo), Chiaki Kanamori (pf)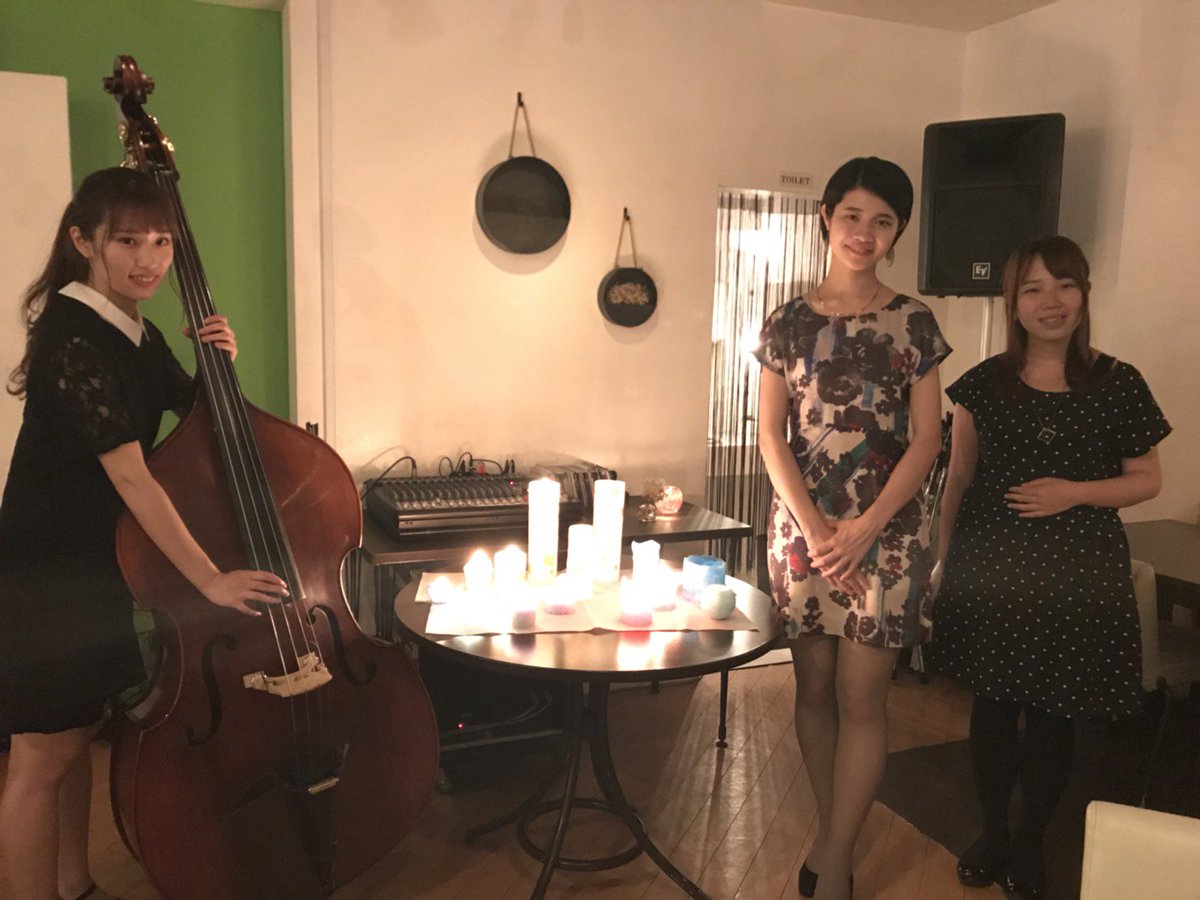 Photo from Kanamori's tweet embeded above
The show was impressive enough to convince you that Japan's show business would be taken over by the promising youth like them.
【Latest post(s) under category of "show report"】