Two-way players are now grabbing attention in the field again. I'm not talking about baseball but jazz.

Trumpet and voice are one of the most well-known combinations that have been in some giants' line. Contemporary artists are not only following them but also trying other mixtures such as piano and trumpet.

In terms of singing to their own instrument playing, guitar as well as piano will be the first to come to mind.

Jazz vocalist Kaoru Azuma invited Kazue Taniyama, a jazz vocalist who is famous for her awesome singing of bossa nova and Brazilian songs on her own guitar, to play an uncommon show that features two singers accompanying themselves.

Set list for the show
* 1st Set
1. My Favorite Things
2. Fly Me To The Moon
3. Georgia On My Mind
4. Lullaby Of Birdland
5. Água de Beber
6. How Insensitive
7. Luiza
8. Batucada Surgiu
* 2nd Set
1. The Very Thought of You
2. Black Orpheus
3. Falando de Amor
4. Chove Chuva
5. Palhaço
6. Is You Is Or Is You Ain't (My Baby)
7. The Nearness Of You
8. Desafinado
9. East Of The Sun (and West of the Moon)
* Encore
No More Blues

S1M1〜S1M4: Azuma sings on self-piano
S1M5〜S2M4: Taniyama sings on self-guitar
S2M5〜S2M7: Azuma sings on self-piano
S2M8: Azuma sings to Taniyama's guitar
S2M9: Taniyama sings to Azuma's piano
Encore: Azuma on piano and Taniyama on guitar sing


In the first set, Azuma got on the stage alone to sing to her own piano accompaniment, followed by Taniyama alone to sing to her own guitar playing. In the second set, Taniyama showed up first.

Azuma's rendition sounded like it was on her company manners at first, but she gradually got used to the unusual circumstance for her.

Taniyama has been at it a little longer. She won the hearts and minds of the audience from the very first note. Her voice felt so deep and wide to comfortably harmonize with self-guitar accompaniment.




Kaoru Azuma sings to self-piano playing
Kazue Taniyama sings to self-guitar playing
Azuma and Taniyama were born in the same year and graduated from the same college. But this was their first time to meet each other to play together.

They had heard of each other's reputation for great performance. Each of the two jazz musicians had long wanted to share the stage some day. Their dream came true that night.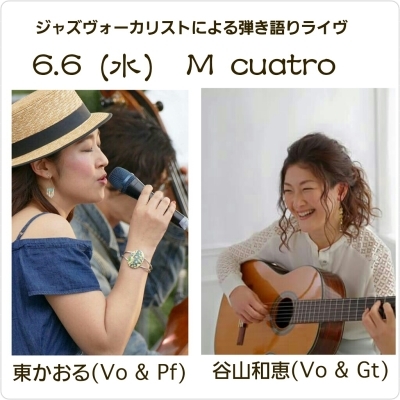 Photo from
Kaoru Azuma's blog post
In the second half of the second set, Azuma and Taniyama performed together. Azuma sang "Desafinado" accompanied by Taniyama on guitar and Taniyama sang "East Of The Sun" accompanied by Azuma on piano.




Kaoru Azuma sings to Kazue Taniyama's guitar playing
Kazue Taniyama sings to Kaoru Azuma's piano playing
In response to calls for an encore Azuma and Taniyama sang "No More Blues" accompanied by themselves on piano and guitar, respectively. There are no words to describe how gorgeous the duo was.




Kaoru Azuma on piano and Kazue Taniyama on guitar sing
All of the audience members completely enjoyed a rare opportunity to attend a gig where the singers play instruments for themselves. I'm sure some of them thought the cover should have been set higher. It is not a stretch to say that the urban live jazz scene in Japan has never seen that kind of gig before.
The show was tremendous enough to spend the evening of 2018's
Musical Instrument Day
in Japan.
Kaoru Azuma (vo, piano), right, and Kazue Taniyama (vo, guitar)
【Latest post(s) under category of "show report"】